Armenian American Museum Legacy Gala
Sunday, March 27, 2022 @ 12:00 am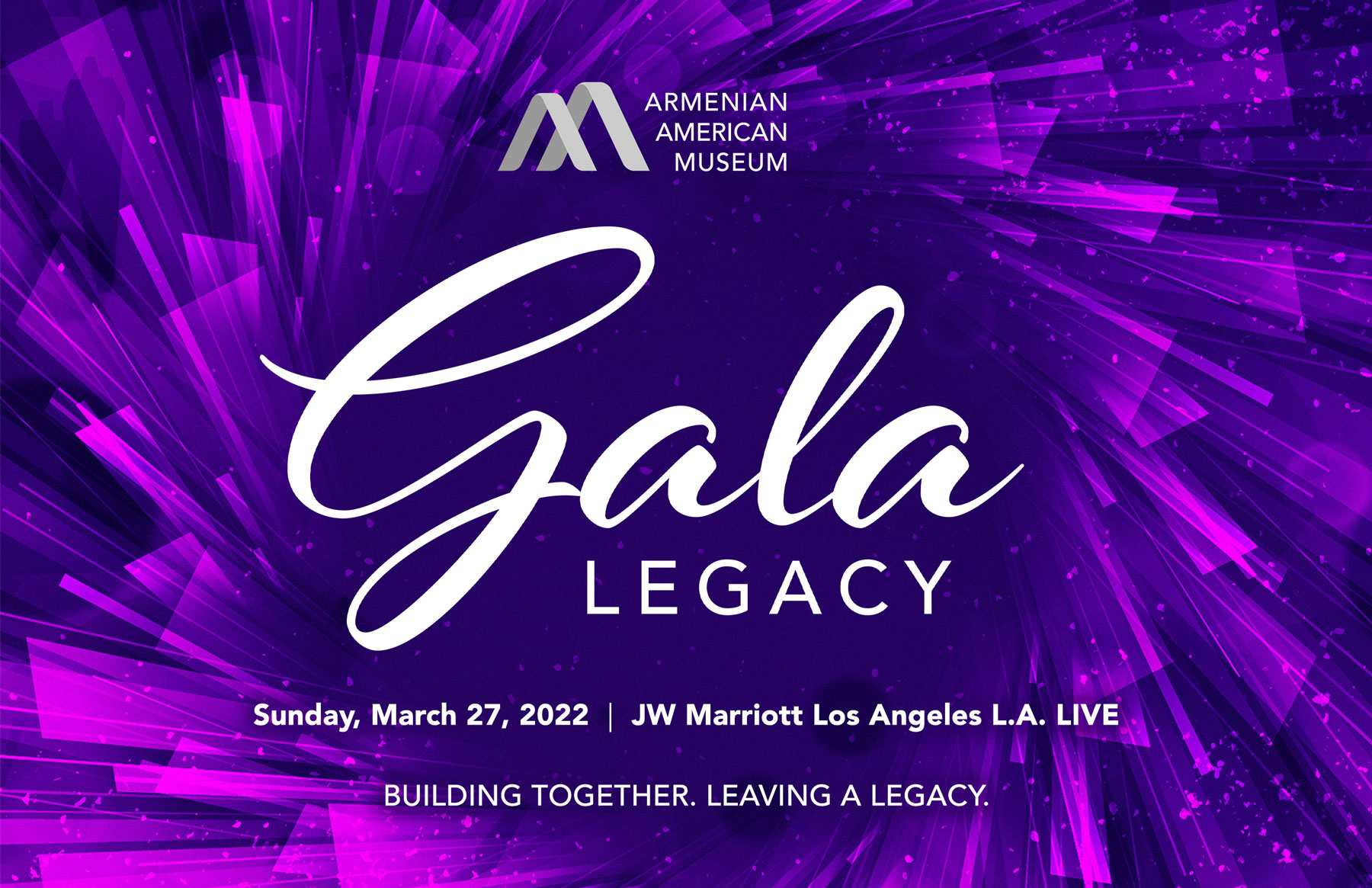 Sunday, March 27, 2022
4:30PM Reception
6:00PM Dinner & Program
JW Marriott Los Angeles L.A. LIVE
Diamond Ballroom
900 W. Olympic Blvd.
Los Angeles, CA 90015
The Armenian American Museum and Cultural Center of California announced that the landmark center has surpassed the historic $31 million fundraising milestone at the sold out Legacy Gala on Sunday, March 27, 2022. More than 1,100 donors, supporters, public officials, and guests were in attendance at the signature event of the year at the JW Marriott Los Angeles L.A. LIVE.
The Legacy Gala marked the next exciting chapter of the Armenian American Museum as the community celebrated the historic groundbreaking and commencement of construction on the highly anticipated cultural and educational center. The event paid tribute to the visionary benefactors and supporters who are building a legacy of education, preservation, and cultural enrichment for generations to come.
Platinum Sponsors
Mr. & Mrs. Ron & Kourtni Arakelian
Mr. & Mrs. Jack & Maro Kalaydjian
Mr. & Dr. Keghon & Alexia Kevonian
Mr. & Mrs. David & Margaret Mgrublian
The GASKA Alliance Foundation
Gold Sponsors
Bank of America
Mr. & Mrs. Vartan & Janet Barsoumian
Silver Sponsors
Mr. Fred Bonyadian
Mr. & Mrs. Sako & Aida Gharakhani
Gloria and Armen Hampar Family Foundation
Mr. & Mrs. Berdj & Mary Karapetian
LIZ General Partnership
Nora Tertzag Hampar Charitable Trust
SAMKO
Mr. & Mrs. Sarkis & Nune Sepetjian
Bronze Sponsors
Mr. & Mrs. Gerald Abrahamian & Tanya Tsarukyan
Ms. Nyri Achadjian
Armenian Missionary Association of America
Beverly Hills Watch Company
In Memory of Hagop (Jack) Aroush Kiledjian
Pacific BMW
PNG Builders
Mr. & Mrs. Frieda & Isaac Vartanian
Gevorg and Arax Voskanian Family Foundation
Pacific Western Bank
Registration Is Officially Closed
For more information on sponsorship opportunities and reservations, contact Major Gifts Director Mary Khayat at (818) 644-2073 or [email protected].