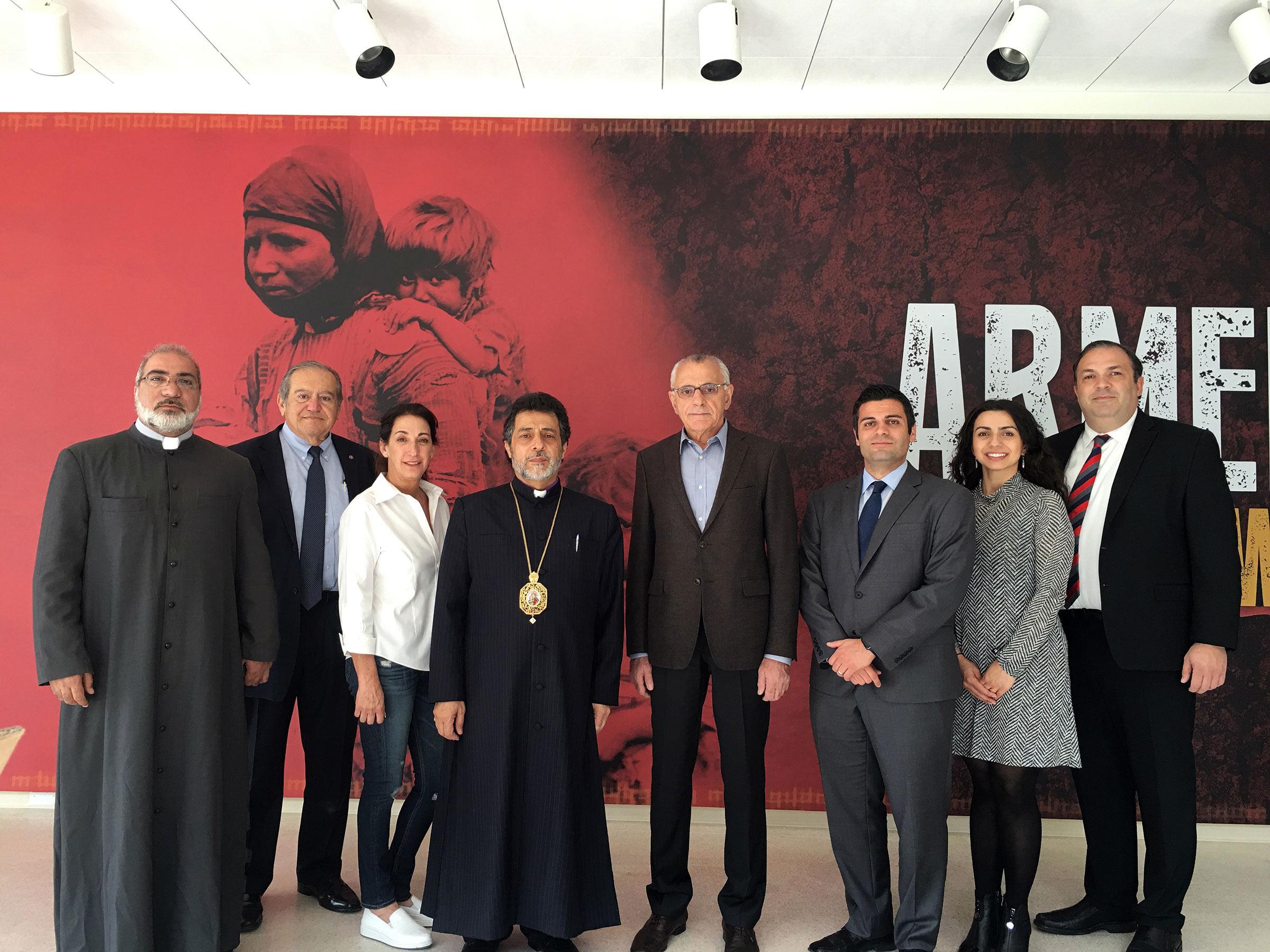 GLENDALE – On Thursday, April 14, Western Primate Archbishop Hovnan Derderian, Co-Chair of the Armenian American Museum, visited the "Armenia: An Open Wound" exhibition at the Brand Library & Art Center ahead of the public opening this Saturday. During his visit, His Eminence reflected on his moving experience at the inauguration of the exhibition in Mexico City during the Armenian Genocide Centennial year and shared his excitement for its upcoming international debut in the City of Glendale.
"On behalf of the Armenian American Museum, it is with great honor that we are able to present this educational and impactful exhibition at the Brand Library & Art Center starting this Saturday, and I encourage our community members to participate in this unique opportunity" remarked Archbishop Derderian.
The City of Glendale Library, Arts & Culture Department has partnered with the Armenian American Museum to present "Armenia: An Open Wound," an exhibition curated by the Museo Memoria y Tolerancia [Museum of Memory and Tolerance] in Mexico City and is now making its international debut in the City of Glendale.
The community is invited to the Opening Ceremony on Saturday, April 16 from 1 to 4 p.m. at the Brand Library & Art Center. The Opening Ceremony will be the public's first opportunity to experience this eclectic exhibition which shares the intricate history, rich culture, and moving stories of the Armenian people.
The exhibit will be on view at the Brand Library & Art Center from April 16 to June 11, 2016. A diverse slate of complimentary programs will be held on a weekly basis following the exhibition's debut. All events are free and open to the public. Brand Library & Art Center is located at 1601 West Mountain Street, Glendale, CA 91201.
Visit www.ArmenianAmericanMuseum.org or call the Brand Library at (818) 548-2051 for more information on the Opening Ceremony and the complete schedule of upcoming programs.
The Armenian American Museum is a developing project in Glendale, CA, with a mission to promote understanding and appreciation of America's ethnic and cultural diversity by sharing the Armenian American experience. When completed, it will serve as a cultural campus that enriches the community, educates the public on the Armenian American story, and empowers individuals to embrace cultural diversity and speak out against prejudice.
The governing board of the Armenian American Museum consists of representatives from the following nine regional Armenian American institutions and organizations: Armenian Catholic Eparchy, Armenian Cultural Foundation, Armenian Evangelical Union of North America, Armenian General Benevolent Union – Western District, Armenian Relief Society – Western USA, Nor Or Charitable Foundation, Nor Serount Cultural Association, Western Diocese of the Armenian Church of North America, and Western Prelacy of the Armenian Apostolic Church.