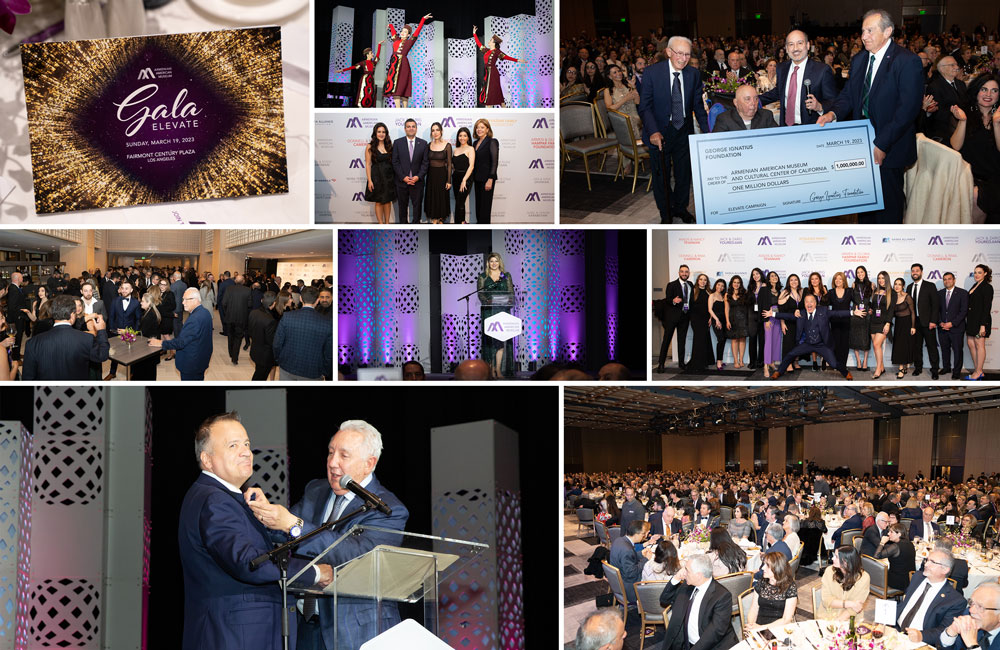 The Armenian American Museum and Cultural Center of California announced the launch of the new Elevate Campaign at the sold out Elevate Gala on Sunday, March 19, 2023. The signature event of the year welcomed a capacity audience of donors, supporters, public officials, and guests at the Fairmont Century Plaza in Los Angeles. The Elevate Gala raised $7 million in support of the Armenian American Museum through sponsorships, ticket sales, donations, and gift announcements.
Executive Director Shant Sahakian celebrated the Groundbreaking Campaign that helped the museum reach the historic groundbreaking of the cultural and educational center in Summer 2021 and successfully complete the first phase of construction featuring the museum parking garage and building foundation in November 2022. He announced the launch of the Elevate Campaign to set sights on the next major milestone of the project as the landmark center is elevated to the horizon as a destination for education, enrichment, and inspiration for generations to come.
Major Sponsors included Rima & Donnell Cameron, Armen & Gloria Hampar Family Foundation, Avadis & Nancy Tevanian, Jack & Zarig Youredjian, Ayvazian Family Foundation, The GASKA Alliance Foundation, Anonymous, Dr. Vicken & Sossy Aharonian, Ron & Kourtni Arakelian, Bank of America, Gregory & Gina Felikian, Steve & Sandi Hampar, Nabil & Hanan Karabetian, Berdj & Mary Karapetian, Matthew & Audrey Matoesian, William McMorrow, Nora Tertzag Hampar Charitable Trust Ara & Nina Ohanian, Sarkis & Nune Sepetjian, and Isaac & Frieda Vartanian.